Digital Transformation Continues to be the Driving Force in Software M&A
By Chris Park
2021 outpaced the prior year in annual technology M&A spend and smashed through a record number of transaction values
and volume reaching nearly $1 trillion. As a result, dealmakers were inundated with potential investment and acquisition
opportunities that surged to levels unseen in prior years.

Across all software verticals, companies battled to meet consumer demand as many industries continued to experience
transformations through digital efficiencies. On one end, adtech experienced record engagement as countries reopened
their economies following extensive lockdown restrictions. As a result, companies looked to recapture consumer attention
more than ever before to recover revenues and capitalize on strong rebounding consumer sentiment. On the other hand,
enterprise software increased organizational efficiency and overall productivity, fueling greater adoption and investment in
software-based solutions across verticals.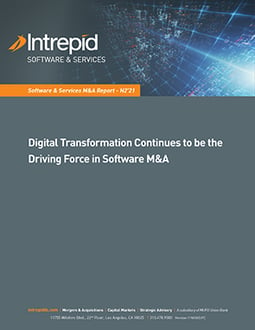 Even in the second half of 2021, the pandemic continued to force businesses to rethink business operations and placed a significant advantage on businesses that embraced digitization and software-based efficiencies. Many large corporations were aware of the digitization trend and have been actively adapting procedures while smaller businesses were left playing catch up. Software players across all ecosystems identified this end market potential and actively moved down the customer chain, educating small businesses on how their products and services can optimize growth.

Overall, valuations were healthy for tech M&A in 2021, however, the looming threats of tax legislation and rising interest rates led to a flooded supply of entrepreneurs seeking transactions. This phenomenon forced investors to raise the bar in their criteria for evaluating prospective deals – sticking to their strengths and spending time on companies that "check all the boxes."



Chris Park
Managing Director
Head of Software & Services


Please fill out the form below to receive the full Industry Report.