Lifestyle Brands and Apparel Companies
Benefit from Revenge Shopping as
Consumers Ease Back Into Retail Shopping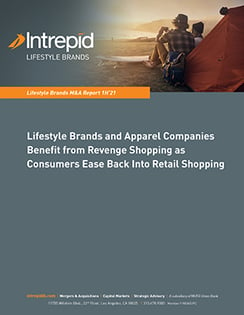 The ease of lockdown restrictions and rollout of vaccines has increased consumer comfort for re-entering brick-and-mortar stores. Globally, we are seeing retail sales grow faster and more steadily than anyone could have predicted a few months back due to pent-up demand, a phenomenon some call "revenge shopping." The concept stems from consumers' willingness to spend more as they consider shopping in-store as an experience they were deprived of during the pandemic. Despite being excited to leave their homes, consumer's expectations of retailers have changed. In addition to maintaining a sanitized environment and enforcing social distancing, shoppers are eager for a more experiential in-store experience. Accustomed to online shopping, customers are looking for contactless check out options and curated assortments while at the same time expecting a higher level of customer service to convince themselves they are engaging in a social interaction. Retailers who integrate technology and experiences while also controlling an unchartered level of foot traffic under distanced and sanitized circumstances will prevail as leaders in the category.



Highlights from the first half of 2021 include:



Rebound in M&A volume from 2020 pandemic levels with both strategic acquirers and private equity sponsors continuing to invest in lifestyle brands;

Increasing brick-and-mortar retail sales spurred from customers return to in-person shopping;

Heightened investment attention towards the streetwear sector noted by recent deals with Supreme, A Bathing Ape, and Off-Whit

e;

Trends towards sustainability through investment in re-commerce platforms going public, including ThredUp and P

oshmark
As we look forward to a post-COVID world, we believe that many of the positive trends in our industry that have surfaced over the past six months are here to stay. This presents massive opportunities for entrepreneurs in this space to thrive and will drive the need for capital and strategic partners. If you are interested in learning more about what is going on in the markets or potential options for your business, please do not hesitate to reach out.







Marvin Padilla
Managing Director
Head of Apparel & Lifestyle Brands

Please fill out the form below to receive the full Industry Report.