Software Bellwethers Signal Adoption of Horizontal Acquisition
Strategies as Imperative to Staying Competitive
By Christopher Park

The Software & Services industry witnessed multiple high-profile deals in the second quarter of 2019. Google made a $2.6 billion (26x revenue) bet on Looker, embedding business intelligence and analytics directly into their cloud platform, as competition intensifies with Amazon Web Services. Shortly after, Salesforce announced its ~$15.1 billion (12.2x revenue) acquisition of data visualization leader Tableau, uniting the world's leading CRM platform with the leading analytics platform and empowering everyday users to tap into the power of their data.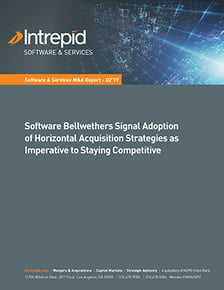 While consolidation of smaller players is bound to continue, these industry bellwethers have signaled that the adoption of a horizontal acquisition strategy is imperative to staying competitive. Software players need to continue strengthening their core offering through consolidation while simultaneously expanding their portfolio of products and services as customers seek more complete, integrated solutions.

We've continued to explore the Education Technology (EdTech) vertical and observed considerable activity last quarter. Private equity (PE) firm Warburg Pincus exited their five-year investment in Dude Solutions for ~$525 million as Clearlake Capital Group steps in to facilitate the company's next stage of growth. Leading training/university software provider 2U made its largest acquisition to date, paying $750 million for Trilogy Education Services to merge its native online graduate programs with Trilogy's technical skills-based boot camps. As strategic and PE interest in EdTech continue to grow, we are excited to see how M&A will continue to shape the vertical.

We hope that this report serves as a useful tool for you. As you evaluate opportunities, please feel free to call us at 310.478.9000 for additional insight.
Please fill out the form below to receive the full Industry Report.